Monthly Archives:
July 2011
---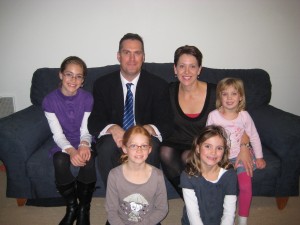 ---
Week one of the holidays are done. Been at work most of it, but Mum, grandma and Justin all had a day of minding the kids so that was immeasurably helpful. Tuesday I got an email at work with a pic of the kids having lunch at Timmy's (well known Canberra Chinese restaurant) after Justin had taken them to the movies and had ice-creams. Thursday I got their haircuts and we had lunch at a cafe before doing some grocery shopping, at which Meg reported to Justin that his days in charge were better then mine! So the pressure was on to have a good day today!
I took them out this morning to a place I loved as a kid. The Hedge Maze at Duntroon Military College. It was still there, thankfully, and the kids had such a great time running around it, getting lost, trapped at dead ends, and snagged on the hedge itself. It was cool. It would have been quite freaky for Amy as the hedge was very tall, but she darted around and only once or twice let out of "where are you" wail.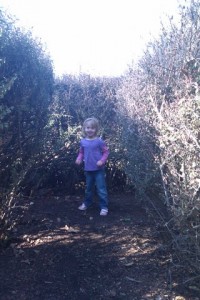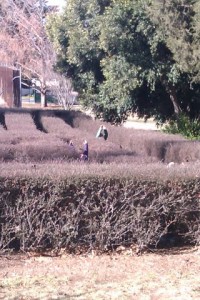 After that we went down to the lake and they scooted from Anzac Parade to the Carillion, and then back again, and then the other way to the flagpole at The Captain Cook Fountain. Amy was on her bike and is going so well with her riding. She loves it.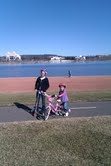 After that we went to the markets for lunch and now we are back home. I've had a little snooze, read some of my book and now it is time to go to swimming. Busy day. They'll all sleep well tonight. 10 out of 10 for a good day.
Justin and I are fully into Battlestar Gallactica at the moment. JF downloaded the 4 seasons, and every night we watch one or two eps. We talk to each other in the language of the show. Daggy I know, but great to be so interested in this thing together!
---
EOFY is quite a busy time when you have your own business. The MYOB paperwork, superannuation and payroll advice forms are really important, and it is imperative not to stuff them up. I did though! Did a payroll rollover to update the system with the new tax tables but forgot to do group certificates (or payment summaries as they are now called), so when I went to print them all off for the staff it said "Nothing to Print",…….insert multiple swear words here. I was freaking out just a little but, but luckily I am married to a bit of an IT wizz, and it was all fixed up pretty soon. Now it is back to square one with a new tax year and that means BAS and IAS and visits to the accountant. Super fun.
School holidays have begun. It is so cold here. I think a little light rain turned into snow today. The rendering is drying though and pretty soon we can paint and get it looking fabo out there. Have had a few quotes on the new kitchen and am relly keen to get that project up and running.
On Friday night I was thinking about what I could do on the weekend given there was no netball or other functions that I needed to be at. So the one area that needs a facelift is the front door room or the Mud Room is the old fashioned word for it. It is brick on one wall and wooden panels on the other. We hang all our coats, school bags etc on the wood wall and on the brick wall we have 5 baskets for shoes. Each girl has a basket, and JF and I share. So I cleared it all out, measured up and sent JF to Bunnings. Here is the before shot and hopefully next week we'll have an after shot.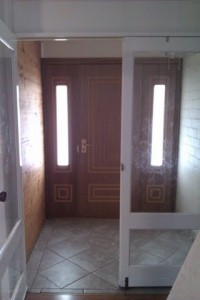 Amy was at the dentist this week. She got a good report and was so very well behaved sitting up in the big chair with her sunnies on (to protect her eyes from the light). She is growing up so fast. I made a job chart for the girls this week and I put on her list Tidy toys, peel carrots and clean bathroom. I showed her how to wipe the vanity down, straighten the towels and generally tidy up and she has done it perfectly and with great pride everyday since. And watch out if there is ever a carrot that needs peeling. She is super at that too.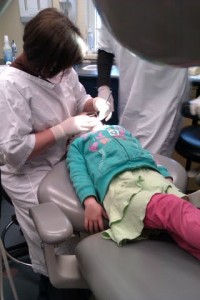 Got Jess's favourite, cauliflower soup, on for dinner, and now have to dash to pick up Holly from Dancing class. Never a quiet moment here.
Have a great week. xx
---