Now the baby is 4.
It seems like only yesterday that I sobbed at the blue line on the stick, but here she is, now 4 years old and the apple of our eyes. It has been a rough few months for us and Amy. Hitting 3 has always been a trialling time with my girls – they say it is the same emotional growth as a teenager. Lots of growing up in a short pace of time and the brain gets overloaded, causing emotions to run high. She is finally emerging form this very self-focused age and is starting to be able to be reasoned with and see things from other points of view. It is really quite amazing the transformation that has taken place. She is such a girly girl, choosing her own dresses (never pants) and wearing layers of skirts and multi necklaces and bangles. She is a hippie at heart! She adores sparkling shoes and glittering tops, bejeweled headbands and handbags. It is fun shopping with her because if it sparkles she in in.
I've said to her now that she is 4 it is time to get rid of the pram and no more "uppy". Sad day for Amy. But really she has enjoyed a babyhood that is years more than any of the others got! Gee, when Holly was four, Jess was 6 months old, so certainly to pram or uppy for her, likewise for Meg when she was 4. It is time! I know we are all ready to embrace the next phase of this life.
In other news, soccer is finished and Holly had her presentation night at the Labor Club last week. She got a cracking trophy, and a wealth of experience and fun, so it was great. Meg and Jess got their trophies a few weeks ago and they were much delighted with that.
School concert was last week too. The theme of the concert was Australia. Jess's class did Aussie commercials. One of which was the Vegemite ad, and she had on the big Vegemite soldiers hat signing "it puts a rose in every cheek". Classic. They also sang the cordial jingle "my day picks the fruit that goes to Cottees…to make the cordial…that I like best". She was singing it at home and said to me "mum listen to this bit that Olivia (best friends and I made up…My dad picks his nose that goes to snotties….hahahaha!". I didn't have the heart to tell her that there was no way she made that up, cause we all used to sing that version back in the 80's!
Meg and her class did dancing routines to "Working Class Man", "Stayin' alive", "Locomotion" and "You're The Voice". Holly's class did a skit about politicians which was very funny. It was a super concert and everyclass made such a big effort.
I've put in my application for my job. Writing a public service application is so tedious and not something that I am used to doing. Got lots of help from Sim ,Em and Penny, so am very grateful for that. I hope I get the job now!
School hols are no upon us and we are looking forward to having a rest. I got the time off work, so no rushing about in the mornings or afterschool. Planning lots of get together s with friends and a visit from the Perth Connection. Can't wait for that.
I've been trying to get out into the garden as much as possible to get things ship shape or the start of spring. I'm keen to get the side of the house looking better. It is fairly bare, we never go up there, but as I run past it in the mornings I always think how awful it looks, so I've been planting native grasses and flowers and hoping that they grow really fast.
I set myself a task to run each day of September. I pretty much have, expect for a few days last week when I was sick with another cold (make that about 5 for the year, *sigh*) and last Sunday after a biggie night out. I'm certainly not in the condition I was this time last year, but I am hoping to get back into bootcamp, start eating better now that is is warmer and get back into shape. I know what I have to do, it is just hard to be so disciplined 🙂
Long awaited pics of the soccer trio.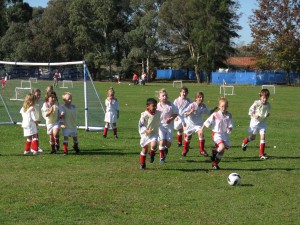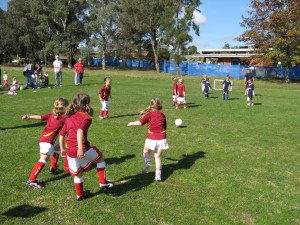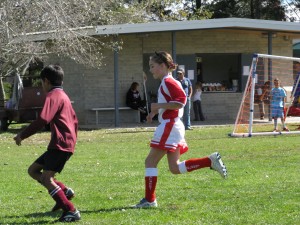 Have a great weekend and super school hols 🙂